Create your own custom scaled doll with a pose which compliments your room box or vignette.
imagine yourself . . . in a Doll House
Imagine a full color sculpture of you or your family inside your room box, dollhouse or vignette. You strike the pose which compliments your room. You can be holding your cat or admiring artwork. Whatever works best for your room.
Holodeck 3D Studios creates life-like miniature 3D sculptures (aka dolls, figurines or mini-me) of real people. The sculpture is custom scaled.
We love doing personalized models!
Artist, Robert Off, standing in one of his miniature art works. He lives in Cincinnai, Ohio, and more information of his art can be found on his web site www.miniaturerooms.com
Susan Cone's mini me has definitely been noticed. She told us: "My mini me has found a home. No one notices my work. They only want to know how I made a mini me."
Catherine Guilloux is chez la vieille anglaise (in the old English room) admiring her handiwork.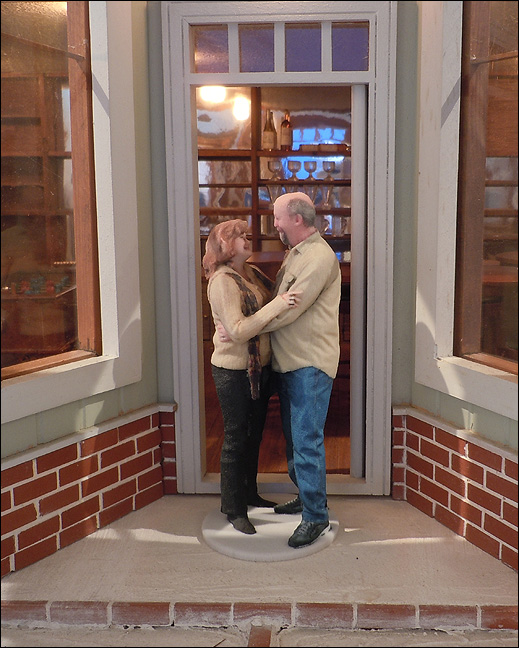 Jim and Tammy D from DBJ Miniatures did this cute model of them in front of their miniature bar! Note how the lighting has added to the effect to make it even more realistic
Originally from Brazil, Betinha Murta started making miniatures in 2004, Betinha now lives in Orlando, FL. She first started making teapots, and now has a wide range of products made from cold porcelain, molded by hand. To see more of her handiwork visit her blog by clicking on either picture.
Parked to perfection! We met Paris Renfroe, of PRD Miniatures at CIMTA. We were impressed with his work. His "garage" is filled with Diecast cars replicas of Ferraris, Lamborghinis, McLarens, Bentley, and some sport bikes. Notice he is even wearing a miniature helmet!
Don and Karla standing by their '57 Ford as 1/2" inch scale models. You can find out more about them here: www.dandkminis.weebly.com
Diane Wendt's mini-me went country style in her miniature barn! She makes it seem so realistic with her miniature animals, barn loft, and country accessories.
Jeany Dean created two whole miniature bedrooms! Check out the super cute little girls room with tiny toys.
Here is Vern and Jeannie inside their 1'' scaled gazebo! Jeannie made this beautiful gazebo and surrounding flowers. Vern added the final touch by secretly ordering a sculpture of the two of them. He then placed it in the gazebo as a birthday surprise for Jeannie. How sweet is that?!
The next four room boxes were created by Kylie Bygland. The first room box she calls "Arabian Nights." Although, this room is really modeled after Medina Azahara in Cordoba Spain. Kylie filled it with hookahs, cushions and a monkey stealing grapes! You can see Kylie in the back of this room admiring the view. The next photo is a cozy den. This is where she imagined her husband relaxing in.
3-inch Vicki enjoying a day of window shopping in her miniature town.
Meet Gael! She is custom scaled for each of her lovely rooms!
Say Aloha to Kathy and Darrel Hall! Their amazing miniature houses will be featured in a miniature magazine shortly. Keep an eye out for them!
Welcome to Gay and Roy Crawford's miniature home (in Saratoga, CA). By the way – their darling miniature home is on the market. If you are looking to add another dollhouse to your collection, please email dawn@holodeck3dstudios.com and I will put you in touch with Gay and Roy.
When we first saw the picture of Betsey Reno standing in front of her "favorite things cabinet", we were fooled into thinking it was really her. The cabinet was created by Bobbie Johnson.
Jan Jones (1:12 scale) standing next to her dollhouse with her 144th scale Georgian Cabinet House made in a class with Geoff Wonnacott at the Bishop Show, Chicago 2018
"The cabinet interior was bare from the class, but I have changed the floors and doors to allow a different arrangement for the staircase. The interior decoration is based on the illustration in Liza Antrim's Book: Family Dolls' Houses of the 18th and 19th Centuries. She has reinstated the original chimney breasts and shelving and from them, I have been able to reproduce the original wallpapers in 2 rooms."