We create 3D Figurines of you and your loved ones from any photo you provide. This means you can order from the comfort of your computer / mobile device without ever having to find a scanning station. Most importantly, it means you can create sentimental moments from photos that you already have.
Need a gift for someone who has it all? Hop onto their Facebook page and grab a nice photo of them and submit it to us to make a 3D Sculpture!
Note: We cannot create 3D figurines without written consent of the photographer and the celebrity.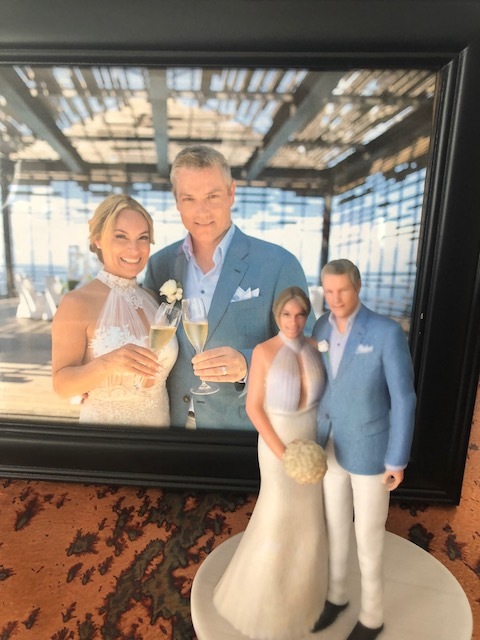 Custom Wedding Cake Topper
To achieve this in advance of your special day you can send us a photo of the two of you posed in regular attire. Ensure your hairstyle and makeup + facial expression are exactly as you want for your 3D Sculpture. Then, privately each of you need to strike the exact same pose on your own in your wedding outfit. Send both shots to us and we will work some photoshop magic and send it back to you for approval prior to us beginning the sculpting. Don't forget to ask us about our wedding packages including your cake topper, custom 3D Sculptures for groomsmen and bridesmaids.
Note how we changed the wine glasses to a bouquet of flowers and his hand at his side.
THE PHOTOS
YOU SEND
Most 3D Figurines posted on our website has been made from just a frontal single image. One clear high-resolution photo is all we need. (We suggest 1MB or above.) Please ensure you submit the photo exactly as you want it sculpted. Pay attention to the body pose/posture, clothing, and facial expression since we will make it identical to what you send to us. For better accuracy, you may submit a photo of the back and sides as reference. If you have these please provide them at the time you place your order and not after all the sculpting has been completed.
VIEW THE MODEL
When your model has been sculpted and digitally painted, we will send you a link to see it. You can then approve it to send it to the printer. Should you require minor modifications to the face shape (IE i.e. making cheeks larger/smaller etc..) you can type it in and these modifications will be made at no cost and a new preview will be posted.
THIS IS ART !!
A 3D Figurine is ART. Our artists are pulling off something quite remarkable to take a single flat photo and make it look 3D in 360. They imagine the sides and the back of the figurine to make it look as natural and elegant as possible. However, it will not resemble identically. They don't know the person they are sculpting, have never seen them in physical form and are trying to interpret what they look like from the sides and back. It's important that the expectations are set. Your 3D Sculpture will not be identical to a wax model replica. It is most certainly subjective. To help make it as close as possible, please provide side and back reference shots.